From reduced-alcohol serves and bottled cocktails becoming more popular to retro drinks regaining traction, and a focus on food, the cocktail scene around the world is set to see new patterns this year.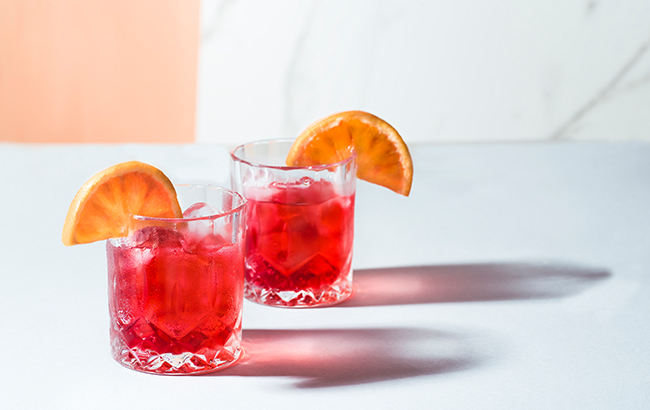 As we enter a new year, with it comes a new set of forecasts for the bar world in the next 12 months. As the industry continued to deal with the impact of a global pandemic, new consumer behaviours also came to light as drinkers returned to bars and ramped up their at-home cocktail-making skills.
For 2021, we predicted the rise of cocktails to-go, a focus on booze education and the emergence of neighbourhood bars.
Looking at 2022, there are a number of trends set to make waves in the bar sector, including low-and-no products, a focus on food and the return of retro serves.
To see our pick of the top spirits trends to watch this year, click here.
Low and no-ABV
As the pandemic continues to influence people's mindsets, more drinkers are looking for balance in their consumption habits. With better quality low‐ and no‐alcohol products on the market, bars can dedicate more space to lower‐ABV serves on their menus to cater for this demand. There are also now alcohol‐free bars around the globe, including in Abu Dhabi, Dublin and San Francisco. In the UK, Mindful Drinking Festival creator Club Soda opened the UK's first alcohol‐free off‐licence in London's West End.
According to the Bacardi Cocktail Trends Report in partnership with The Future Laboratory, 58% of consumers globally were drinking more non‐alcoholic and low‐ABV cocktails than a year ago. Bartenders are also tapping into the no‐and‐low trend to offer flavourful options in the on‐trade. In 2020, Italian mixologist Simone Caporale, formerly of Artesian at The Langham, launched Zeo, a non‐alcoholic 'spirit' that mimics the flavour and texture of alcohol. The brand is aimed at 'sober curious' consumers seeking an alternative to alcohol.
Bottled cocktails
Led by the movement towards RTDs and takeaway cocktails during the pandemic, venues are pre‐batching drinks instead of mixing them on the spot, saving plenty of time during busy service periods. Many venues turned to bottled cocktails for an extra revenue stream, including London bars Heads + Tails and Three Sheets, while agave spirits den Hacha transformed the signature Mirror Margarita serve into its own bottled cocktail brand.
Bacardi moved into the pre‐batched market with the purchase of Tails in November 2020, and in June 2021 offered 10,000 sample kits to reopened bars and restaurants in Europe to help them generate more revenue. Meanwhile, venues such as Christine's at the Mondrian Shoreditch are offering pre‐bottled cocktails and cocktails on draught.
For 2022, bars could diversify their bottled cocktail offerings and move to larger‐format serves as consumers look for more Instagrammable cocktails that can be shared.
Simple serves
Consumers are seeking simple drinks that can be replicated at home – think Spritzes, highballs or anything mixed with a high‐quality tonic. More bars are offering refreshing long‐drink options, allowing the spirit's characteristics to shine. The Aperol Spritz is now the most ubiquitous cocktail in 25 European countries surveyed by CGA as part of its
Cocktails in Europe report.
In December 2021, Brad Madigan, managing director, Campari Group UK, said: "We know that changing consumer occasions have translated into different alcohol‐purchasing habits over the past year. Easy‐to‐create cocktails at home have experienced a real boost – in the first eight weeks of the year, we saw a 70% increase in online searches for Aperol Spritz compared to the same period in 2020, as consumers sought to recreate the iconic, Aperol Spritz serve in their own homes."
Simple serves such as Martinis and Negronis could become even more popular in 2022.
Nostalgia appeal
As drinkers returned to bars, many sought out retro drinks from decades past with bars conjuring up twists on classic Cosmos and Espresso Martinis. Consumers are also seeking out unusual drinking spots such as speakeasies or themed venues and experiences based on their favourite films, allowing them to relive screen moments.
As Sex and the City reboot And Just Like That hit TV screens at the end of 2021, the show's famous serve, the Cosmopolitan, reported a 204% increase in global searches, according to online drinks retailer The Bottle Club.
There are now venues dedicated to Espresso Martinis and London's Tube system, as well as pop‐up bars for the Wes Anderson film The French Dispatch in various cities, for Home Alone in Nashville, and for the new Indiana Jones sequel in Glasgow.
The coming year could see more venues and experiences based on iconic films and viral moments, and the return of disco drinks and classic serves.
Foodie focus
Consumers have traded up to higher‐quality drinks during the pandemic, and many brands have sought to offer cocktail‐and‐food‐pairing masterclasses so people could virtually entertain guests at home. Venues are seeking to offer more lavish drink pairings with smaller plates or tasting‐ menu options to create an elevated experience for consumers and keep them in their bars for longer. There are now boozy afternoon teas to be found around the world, including at London venues Lyaness and Mr Fogg's House of Botanicals, where cocktails are served in teacups.
Meanwhile, Eve's Bar in Adam Handling's Frog restaurant in London offers a bar‐snack tasting menu to complement its new winter‐themed cocktail menu. The snacks focus on using seasonal ingredients and by‐products from the kitchen.
Expect more focus on cocktail pairings in high‐end venues in 2022, as well as enhanced bar nibbles to accompany spirit flights.
Source: https://www.thespiritsbusiness.com/2022/01/cocktail-trends-to-watch-in-2022/